Just for the start – forget about all that crap distributed with Windows installation. These programs are bad even for simple image presentation. Forget about straight-from-the-camera pictures. You have to properly edit your pictures to get real quality. But don't worry, its neither too difficult or too expensive.
Why you need good image SW?
The days when straight-from-the-camera pictures were standard are gone. At least you should check histogram to correct brightness and contrast, properly downsize your images and add some watermark and copyright information. Also small retouching is often needed. These things are not difficult and they are all described in many tutorials across the web. But you can not do that in primitive programs.
Freeware options
If you are short on budget, I highly recommend Gimp. It has many advanced features and even some pro stock photographers use it as their main tool. Honestly, it is not Adobe Photoshop and I personally dislike its interface but it definitely can get the job done.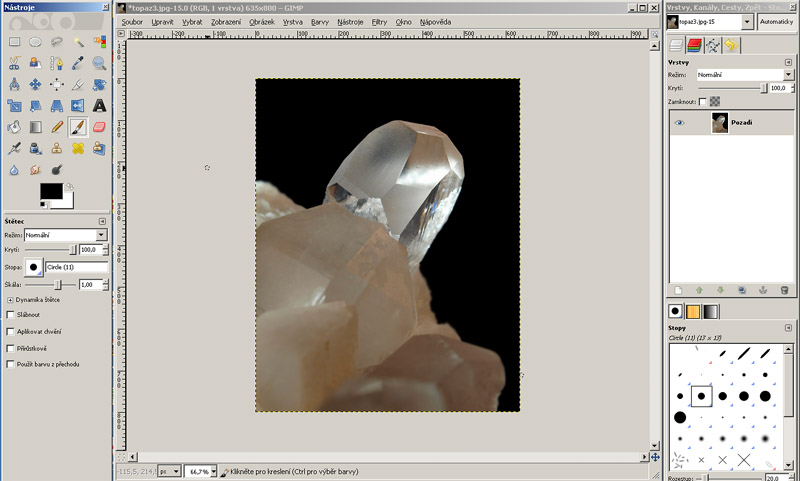 As you can see on screenshot, Gimps interface consists of 3 separate windows. In my opinion this is not good but some people like it. You can try and see, its for free. There are also some clones of Gimp with customized skins and rearranged similar to Photoshop interface. Gimp 2.8 and above also allows single window interface.

Paid options
The really best program for editing pictures is definitely Adobe Photoshop. However its full version is huge overkill for most folks. Better save some serious money and get the Adobe Photoshop Elements version, which is significantly cheaper and has all the necessary features. You can download the trial version for free. Other option is PaintShop or something similar.
The left picture shows screenshot of Adobe Photoshop Elements 8 and on the right is Adobe Photoshop CS3. I like them both and for beginners I highly recommned Adobe Photoshop Elements. It is not freeware but it is worth every penny it costs.
Using software
Buy some good book or find some good tutorial sites or videos and learn how to edit your pictures. It might seem hard in the beginning but the basic editing is easy and you can learn all of that in just couple days. The most important is personal experience. Do not read tutorials – try them!
The pictures above show exactly why postproces is a must. I was lazy and didn't setup everything properly. The left picture is stright from the camera and the right is the same one after some basic postproces.